Coconut Grove
The enchanted heart at the center of our tropical soul.
Welcome to Coconut Grove
Every great city has a secret heart, a tucked-away treasure. In Miami, the enchanted heart at the center of our tropical soul is called Coconut Grove. This charming walking village with tree lined streets leads down to one of the world's most beautiful sailing bays.
This delightful village is nestled between Coral Gables and Downtown Miami and is a sail away from Key Biscayne. Tourists and residents alike love Coconut Grove for its quaint village atmosphere, bohemian vibe, brick sidewalks and its proximity to Biscayne Bay.
City Hall
3500 Pan American Drive Miami, FL 33133
City Website
Coconut Grove Real Estate
Known for its eclectic residences, Coconut Grove homes for sale are highly sought after. This waterfront neighborhood is peppered with cottage-style architecture, contemporary offerings, luxury high rises and everything in between. Some of the most desirable homes for sale in Coconut Grove are tucked away in gated communities such as The Moorings, The Cloisters, Grovenor House, and Grove Isle, among others.
Coconut Grove History
The Village of Coconut Grove is referred to as The Grove by locals and as home by my family and I. Cliche as it seems, Coconut Grove is truly a unique place in South Florida, with a rhythm all its own.
As the oldest, continuously inhabited neighborhood in the city of Miami, Coconut Grove is full of charm and joy, boasting Biscayne Bay and lush trees as its backdrop. It's the ideal scenery for the countless festivals and community activities that go on here.
This village started out modestly with an influx of immigration in 1825 when the Cape Florida lighthouse went into operation and was manned by John Dubose. The Pent, Beasley and Frow families were also among the earliest settlers recorded in Coconut Grove.
The name of the city originated when Dr. Horace P. Porter was said to be renting a house in 1873 from Edmond D. Beasley's widow, who homesteaded 160 acres bay front property. Although Porter only resided in the area for a year, he established a post office which he named Cocoanut Grove.
"Jolly Jack" Peacock, regarded as another pioneer in this area was an Englishman who settled in the south part of the Grove. He convinced his brother Charles, then owner of a wholesale meat business in London, to move to Florida. Charles Peacock, his wife Isabella and their three sons eventually settled in Coconut Grove and in 1882 opened the Bay View House, later called the Peacock Inn, the first hotel in South Florida. Because of the hotel, workers came from The Bahamas to work at the Inn and founded the first Black community in Miami, along Charles Avenue.
The Peacock Inn attracted a variety of visitors including nobility, authors and scientists, many of whom made Coconut Grove their permanent home. Among the settlers was yacht designer Ralph Munroe whose home, The Barnacle, is now a state historic site and 5 acre park. It is the oldest residence in its original location in Miami-Dade county. The first school teacher, Flora McFarlane, also left her mark. As the founder of the Housekeeper's Club (now The Woman's Club of Coconut Grove) she impacted the community greatly.
By the early 20th century, prosperity and growth where evidenced by a yacht club, a school, a library and a chapel. Ultimately however, the climate and bay front setting proved to be the most tempting lure for wealthy Northerners who built winter homes including James and William Deering and William Jennings Bryan.
One of the homes, Villa Vizcaya, now a decorative arts museum set in the midst of magnificent formal gardens, was originally the home of International Harvester Vice President James Deering. Deering purchased the bay front property in 1910 and hired architect F. Burrell Hoffman, Jr. to design the house and an Italian Baroque farm village containing a dairy, poultry house, barns, garage, and staff housing. This village enabled Vizcaya to be entirely self-sufficient.
Deering traveled throughout Europe with interior designer Paul Chalfin purchasing furniture and works of art for the house. Construction began in 1914 and 1,000 craftsmen and artisans worked on the house for two years. Deering moved in on Christmas Day, 1916, arriving by yacht. All the furnishings Villa Vizcaya are just as they were in Deering's time, including such early 20th centuries amenities as a telephone switchboard, central vacuum cleaning system, elevators and fire sprinklers. Deering enjoyed nine winters at Villa Vizcaya before his death in 1925. Deering's descendants sold Villa Vizcaya to Miami-Dade County in 1952, and in 1970 it was placed on the Register of Historic Sites. (Villa Vizcaya is open for tours.)
In 1925, the city of Miami annexed Coconut Grove but it has always retained its individuality. Artists flocked here in the 1950s and enriched the area with a bohemian vibe that is at the core of this avant-garde neighborhood. Today that same vibe permeates countless, highly acclaimed events such as the renowned Coconut Grove Arts Festival.
No longer just a bohemian village, Coconut Grove now boasts among the most sought after real estate in Miami. With luxury condominiums including Grove Isle, the Grovenor House, Ritz Carlton residences and outstanding, private communities including The Moorings, this area with its waterfront vistas and tree-lined streets continues to temp visitors to stay a while.
Favorite Coconut Grove Resources
Coconut Grove Arts Festival
As a long-time resident of the Grove, I naturally look forward to the
Coconut Grove Arts Festival
over President's Day weekend every year. I still am amazed that my little neighborhood is host to one of the biggest art festivals in the country! I bask in the energy that fills the neighborhood, as well as the wonderful art, music, food and (hopefully!) glorious South Florida weather. I fancy myself a local expert on this festival so I have put together some tips to guide you through this magical event that could only take place in my very own Coconut Grove!
When: President's Day Weekend
The gates open at 10:00 a.m. each day of the festival. On Saturday and Sunday gates close at 6:00 p.m. On Monday gates close at 5:00 p.m. Tickets are $15 per person at the gates(as of 2018), but can be purchased online ahead of time for a small discount. Kids 12 and under are free and Coconut Grove residents in the 33133 zip code may purchase a $5 admission ticket. (Keep in mind that it is one ticket per person per day and that you will need a valid state issued ID - 1 ticket per ID.)
Where: the actual address of the event is 2700 S. Bayshore Drive, Miami, FL 33133, but the festival runs along the streets of McFarlane Road, South Bayshore Drive and Pan American Drive.
How to get there:
You can take the Metrorail to the Coconut Grove Station and then either walk to S. Bayshore Drive or take the 249 bus. I would recommend the bus. It is roughly a 20-minute walk (usually in the sun) and you do have to cross U.S.1, which can be tough if you have little kids with you.
You can ride your bike and leave it at one of two free bike valet stations, located at the top of McFarlane Road (near CocoWalk).
You can take an Uber/Lyft, but rates will likely be at a premium during this busy weekend.
You can drive. While there are plenty of parking options, be sure to check the parking map below and pack a little bit of patience.
I prefer to hit the festival early in the day, before the crowds and heat really kick in, or later in the afternoon, when it's a little slower and I can stroll down to the waterfront to catch the sunset.

And speaking of packing… Be sure to pack some sunscreen, a bottle of water and to wear a hat. Comfortable shoes and lightweight layers are a must! I also like to bring hand sanitizer and wipes so I can freshen up along the way.
Little Ones:
If you are bringing little ones, know that the crowds are pretty thick and maneuvering a stroller can be difficult; however, if your kids aren't used to walking, your arms will thank you for bringing one. There is a terrific kid-friendly and educational Family Zone that combines interactive fun and education for the youngest art aficionados. It is located right in front of Dinner Key Marina, at Regatta Park.
And now that we have gotten the logistics out of the way… what is there left to do? Enjoy the wonderful festival!
The Coconut Grove Art Festival Artists
Over
360 artists
will be displaying and selling their masterpieces. There are tons of mediums (photography, sculpture, glass, jewelry, metalwork - you name it!) and lot of price points… maybe you will come across a piece that you just have to call your own. From my experience, artists are usually very accommodating in helping arrange for delivery and shipping, so if you are an out-of-towner, don't let it deter you.
If your budget is lean, or if you are a collector like me, a wonderful souvenir is the yearly Coconut Grove Arts Festival poster. I've assembled them on a
Pinterest Board
for you.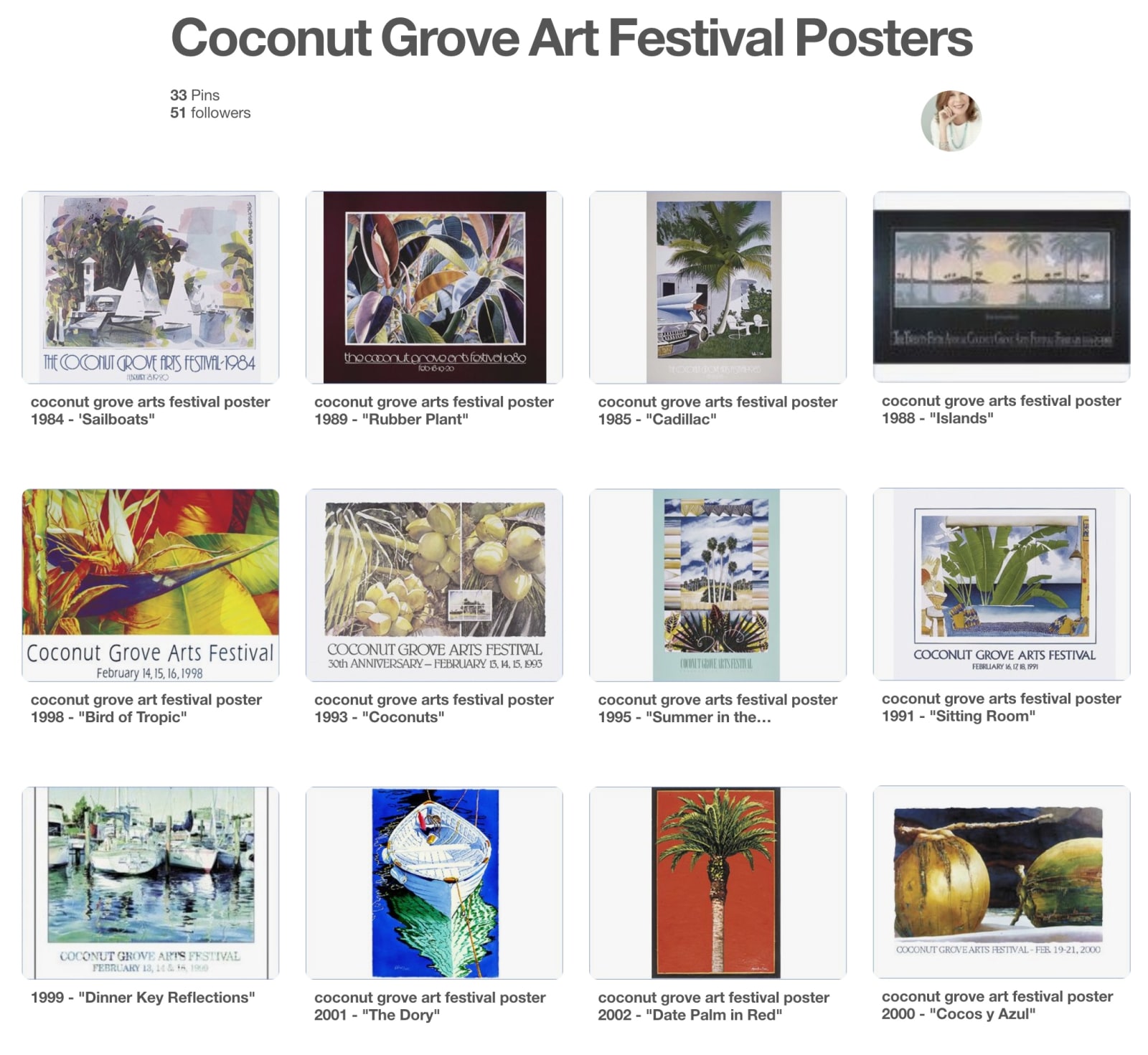 The posters can be found at the Festival Stores scattered throughout the event and can also be purchased online, if you don't want to carry it around with you.
Another big part of the festival is all the yummy food. In addition to traditional "fair food," you can also find international acclaimed chefs who will dazzle your tastebuds and entertain you with live presentations.
The Coconut Grove Arts Festival truly has something for everyone… it is a magical weekend that can only happen in South Florida. I hope to bump into you there! If you are from out of town and fall in love with Coconut Grove, let me help hang your new art in your new home!


If you want to live amidst architectural gems and enthralling history in Coconut Grove, call Carole today or
Search Coconut Grove Homes
for Sale.